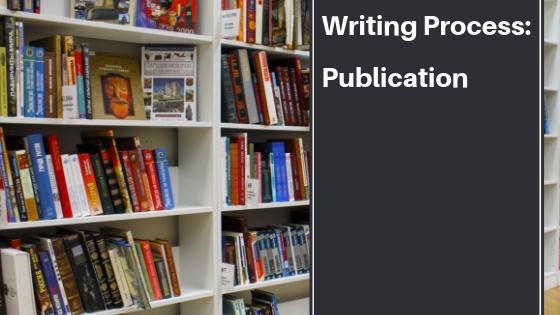 "Publication is a marathon, not a sprint. Writing the book is only the start."
– Jo Linsdell
Publication time is an exciting time for me. It means I've accomplished something. Weeks or months of hard work are behind me. The book I've prepared is going to help someone—somewhere—or, at least that is my ultimate hope. I'm sure you feel the same with whatever you are writing. Since I mostly write books, I'm going to compare publication methods for books within this blog post.
Traditional Publishing
First and foremost, traditional publishing is when authors publish their book through a publishing house. Upon book publication (and usually upon acceptance of your manuscript), you'll be assigned a team. They may market your book, design the cover and edit your manuscript. This team may have connections in bookstores, schools and other places you want to publish. Unlike self-publishing (where you have out-of-the-pocket costs), traditional publishers pay you. You receive advances and royalties if you get your book done faster. Or, you may receive these if they contract you to write another book. They may even tempt you with advances to move toward a sales goal, such as selling 10,000 more copies of your novel. These advances have to be paid back to the publisher, however, through your book sales.
Traditional publishing houses also make it easier to become a well-known author. These authors go on to win literary awards. They rise to the best seller list much faster and easier than those that self-publish their books. This may be the foot work of their literary agent who is pushing the author's name into their connections everywhere they go. Or, it could be the work of the author keeping their blog current, guest posting on relevant blogs and keeping their name in the news. Either way, these authors are usually brand-name authors. Would we recognize Nicholas Sparks if he just self-published? Probably not.
Now for the flip side…
Traditional publishing takes quite a long time. Your book may have been accepted, but it could be 18 months until it hits your local bookstore. But don't think your publisher has pushed your manuscript on a shelf or in a junk drawer. In fact, directly the opposite. Your team is hard at work polishing your manuscript. They're editing your text, designing your cover and creating a marketing strategy. They may be setting up interviews and/or a book tour. More than likely, you're going to be involved in all of this. So don't fret; even though it takes a long time, your book will get out there.
You also lose a majority of creativity. Your publisher may change your title or your book cover. Aspects of your book, such as the characters or setting, may also be changed. It's always possible you get an editor that respects your creativity. At the same time, don't fear the changes they suggest. Editors at publishing houses have intensely studied the genre for which you are writing. They know how your hero(ine) should be portrayed. They'll know if your setting needs work or is larger than life. Listen to their advice and hear them out.
Finally, traditional publishing houses set deadlines. This isn't so bad, but they require that you sell a set amount of books on top of that deadline. Ok, now that's just a bit more harder. This is where your marketing team comes in. The interviews, press releases and book tour all will help you sell books. But you do your own marketing as well. Host book signings and have events. Advertise your books through your e-mail newsletter and all your social media accounts. All of this is going to help you sell your books. Your literary agent, should you have one, will be working to push you into bookstores in the meantime.
Self-Publishing
Self-publishing is relatively new with the innovation of the internet. It's often referred to as indie publishing. The author accepts the role of author and publisher, completing all tasks involved in publication of their manuscript. This, in turn, leads to self-directed publishing. This means the author hires a proofreader, a book formatter, an illustrator to design a book cover, and a marketing team. The majority of self-publishing expenses are going to be out-of-pocket, which is the hardest pill to swallow.
A huge pro of self-publishing is that you have creative control. You control your book's characters, setting, conflict and action. The author has control of everything within the publishing process. But before you have a cover designed or even hire a marketing team, study the trends. What type of covers sell the most books in your genre? What marketing techniques work better than others? If you want to solely market on social media, you'll want to hire a social media manager. Keeping up on multiple social media accounts—several times a day—will prove challenging. Hire writers to write press releases and book blurbs. Where you lack in skills, always hire. You're going to shine in sales for it.
You have potential to earn more money. With traditional publishers, the publishing house takes a big cut of your profit. If you have an agent, they take a cut of the profit as well. But, when you self-publish, you keep this money. Amazon pays their self-publishing authors 70 percent of each book. That's a large piece of the pie. If your book is marked at $4.99, each book yields $3.49 in profit to the author. If you have a top-notch marketing strategy, you have the ability to do well selling a lot of books and still be successful.
Have as many (or few) books as you want. Self-publishing gives you control over deadlines and how you produce the books. If you want to produce a book a month, get it done. If you want each book to be 25-50 pages, that is manageable. In fact, you could write each book within a matter of days. You don't have editors that manage quantity or quality control. You control your destiny as an author. You are at liberty to write mystery books, non-fiction books and historical novels all under the same name. All the same, you have the freedom to use pen names for all these separate genres. You set your own hours, so take advantage of it.
And now the opposition…
You're on your own with marketing. Self-published authors have to push their own books out to their customers. You have be active on social media across the board. This means creating accounts on every single social platform. The top social networks are these: Google+, LinkedIn, Facebook, Twitter, Instagram, Periscope, Periscope, and Youtube. Choose specific networks to be on yourself; delegate the rest to your marketing team. Have your team write press releases and send these to bookstores and libraries. Be active to get your own interviews with newspapers and television journalists. Network with coffee shops, libraries and bookstores to do book signings and readings. You may have work harder, but it will pay off in the end with book sales.
Book reviewers may not review self-published books. I'm not saying it's a certainty, but it's a possibility. It makes it harder for you to rise to the top of the best sellers list. In essence, you have work much harder than your genre competitors that are traditionally published. They rose to the top of the list by the whispering of their agent or their publishing house. You have to arrive on the list by a method of your own accord. Is it doable? Of course. You're going to be creative in how you get there. Network with people in the publishing industry. Never, ever give up. Look at rejections as stepping stones and not a barrier. You can do it.
Lastly, as I've mentioned before, there are out-of-pocket expenses. If you publish on Amazon, Nook and iBooks, there may be fees to upload and publish your manuscript. There may also be fees if you publish on Kobo or Smashwords. Budget for these fees and get on as many platforms as you can. You don't want to have your book in only one place. You want to have it everywhere. You may not be able to publish all these places at once and that's perfectly fine. But make it a goal. As a self-published author, distribution is going to be a challenge. You have to push your book out there. You have to make it noticed by everyone. This is how you will be successful at the day's end.
I hope this has helped clear up confusion over publishing methods. Have comments? Leave them below.