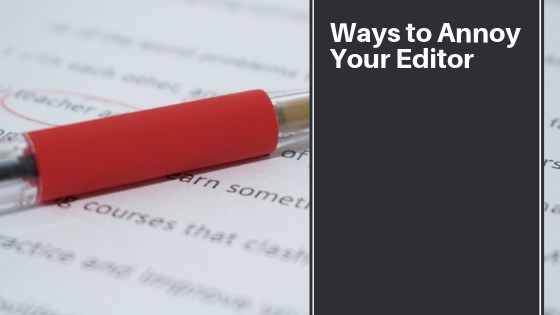 "This is how you do it: you sit down at the keyboard and you put one word after another until it's done. It's that easy. And it's that hard."
– Neil Gaiman
Even the best writers need an editor. These are individuals that proofread your work for any error that may arise. It may be a troublesome word, such as a homophone–words that sound like but are spelled differently. For instance, red and read are homophones. So are threw and through. These are words that your spell check won't acknowledge, but instead, they are glossed over. After all, they are words in our language.
While we all may think of ourselves as excellent writers, editors are there to polish our work and iron out all the wrinkles. They make sentences sound stronger and build up your writing to sound more concise. There are ways to crawl under their skin, however. As writers, we must always try to avoid these methods. Here are some pet peeves that leave editors wondering how committed you are to your writing.
You miss deadlines. If your deadline was at 5 o'clock on Friday afternoon, you better get that piece of writing in well before deadline hits. When I write on Fiverr.com, I usually aim to complete writing assignments a day or two in advance. Why? Because I have an opportunity to earn more money through tips this way. But I'm not working for tips. If you're publishing a newspaper or magazine, that deadline is there for the rest of the departments. If you get your story in late, that means the copyeditors edit it late. The designers place it in the design file late and, that means it goes to publication late. See where this is going? So get your submissions in on time.
Not following directions. If you do a Google search, you'll find submission guidelines for just about every publication. This includes blogs, magazines and newspapers. These submission guidelines are specific down to the letter of what they want for their publication. They may specify what type of content they want, for example, or what font your submission should be in. The publication may also tell you whether or not they accept submissions from those writers that do not have agents. These writers may have to query article ideas first. If you don't follow these instructions, don't be surprised when an editor sends you a rejection slip. These guidelines are set in place for everyone. If you're serious about being a writer, you're going to have to commit.
Pitching posts that aren't a good fit. Most magazines will tell you to read their back issues before querying an idea. They do this so that you have a good idea of the content they publish. And, editors ask that writers read articles to avoid writing articles that don't quite fit their publication. Let's say you want to query an outdoor magazine. If you make the assumption they cover wildlife without reading, you could hit it big or miss the mark. Editors want to publish your content, but when they see a story that is not related to their niche, it leaves them to believe you didn't read the guidelines at all. To order a back issue or two; check them out from your local library. You'll be better off getting an acceptance letter once you do this.
The writer is hard to reach for edits. So you've been accepted for publication–awesome! It's a great feeling to have an editor chasing you down, but this is not the time to hide in a cave. Don't disconnect your social media. Don't turn off your phone or your email. These editors have to have a way to get ahold of you. They may want to meet in a coffee shop to go over final revisions of your writing before it goes to print. When you develop a relationship with editors, it could open doors to more publications. They could be the word of mouth that gets you into those publications that are bolted shut to new writers. So work with them. Over time, they're going to work with you.
Don't proofread your work. Lastly, this is perhaps the biggest thing that can annoy your editor. You may be thinking: 'But editors proofread anyway!' And, you would be right. But, we shouldn't have to rewrite every word of your article. I use a three-step proofreading system for everything I write. First, I read it for content. Then, I reread it for any type of error. Finally, I read the article a third time to make all errors have been discovered. I'm sure most editors use a similar process. Go through a process like this before your editor sees your work and they'll thank you for it!
So these are sure-fire ways you can annoy your editor. Or, look at them as ways you can stop annoying your editor. What are your thoughts? Leave them in the comments.