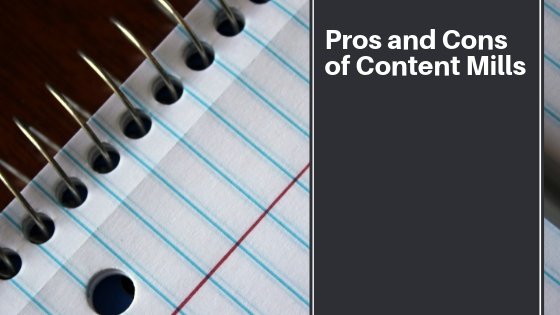 "Writers see the world differently. Each voice we hear, every face we see, every hand we touch could become story fabric."
– Buffy Andrews
You've heard of them. Those writing sites that pay you in ad revenue. What they don't say in the fine print is that you have to market your articles yourself. And I mean really market your articles. This requires putting them out to social media several times a day–on multiple social networks–and hoping you make a few pennies. Does this sound familiar? Most writers, at one time or another, have tried out these sites. Whether or not they work for you is a different story. But one thing is fact: they are not a get-rich-fast scheme that most of them promise. So let's weigh their worth.
PRO: You can write just about anything you want. And how much you want.
Do you like to write top 10 articles, travel articles or book reviews? You can do this on these sites and get lots of great comments. Health, education, parenting, crafts and outdoor topics are also very popular. In fact, you can write on pretty much any topic you want, including as many pictures as you want. Of course, most of these sites will ask you to claim to the pics as your own. That's the freedom, however. Also, you don't have a cap on how many articles you can write per day. Go ahead and post 10 articles–why not? It's a great way to get feedback and maybe you'll earn some money, but don't count on it paying a power bill.
PRO: You can write from wherever you want.
Take your computer to the library or outside in the sunshine. Your office is where they make it–or so they say. While some of these sites have editors, these individuals are unaware if you're in active wear or a t-shirt and leggings. They're not going to care if you're writing your articles on a train, plane or backseat of a car as long as you keep churning them out. The fact is, most of the editors on this site are automated. They run your article through a plagiarism test, and if it passes, upon the site it goes. Can you imagine the wait time for authors if humans had to edit thousands of articles? Oh, the humanity!
PRO: You can browse the site to get ideas for your articles.
First, buy a notebook and divide it up into categories in which you focus your writing. Then, look at who you follow on the website. What types of articles do they write? Browse the headlines to get ideas for your own. Write these ideas in the notebook. Don't write more than 10 at a time because this will seem overwhelming. Once these 10 articles are written, then complete the process again. You can either stick with a category or jump around; it's up to you. But if you go over 10 articles chances are that you'll get burnt out. Trust me, it can happen.
Now for the…flip side…
CON: They really do pay you in pennies.
Let me be straightforward. You have to have hundreds, if not thousands, of articles to make real money. Some of these sites will allow you to sign up for affiliate programs, but still, the marketing falls on your shoulders. Have Facebook or Twitter accounts? Throw your articles on there. You may even want to put them up on Pinterest or Google+. But really, let's be realistic. Having time to do all this marketing takes time. And if you're working a lot, or have a house full of kids, it's going to be hard to fit in.
CON: Some own all rights to your article.
When you sign up for these sites, you really have to read the fine print. What rights to your article do they own? If they want the first rights, for instance, this means they want to be the first to publish it. If you see the term all rights, then run away from that site. This means that if you publish a piece of creative writing on their site they own it right down to the last period. You will not be able to publish it in a book, even if it's yours. Exclusive rights, however, is quite different. This is the site's request asking you not to publish it elsewhere while they have rights to your work. This could be one month or more, depending on the time frame. Non-exclusive rights, in contrast, means that you can sell your work elsewhere.
CON: The work is inconsistent.
These sites all work differently. Some of the sites give you free reign of your articles. That means you can write whatever you want and when you want. If you want to write about pets or scrapbooking, then knock yourself out. Then, others assign you articles. These assigned articles are the only available articles to write which makes it difficult. They are usually posted by editors or bloggers looking for content. For instance, an editor might assign an article such as 10 activities to do in Dallas This Spring. This article will only go out to writers in that area or those writers that have written on that topic. For other writers, they fall short and make less money. Sorry, but it's how the ball bounces.
These are not the sites to make money as a writer. In fact, I'm telling you to steer clear. Rather, make your money on sites such as Fiverr.com, Odesk or Elance that are going to pay you your worth. These sites will pay you real money and you'll build a great reputation as a writer. You may even discover more about your writing abilities which is always awesome!