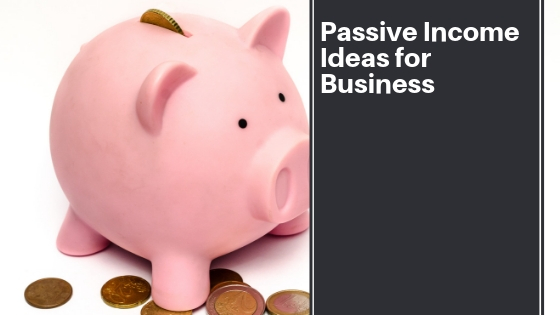 "These days an income is something you can't live without – or within."


– Tom Wilson
Passive income is the earning of money when one is directly involved with the customer. As more businesses move online, this type of income is picking up steam with entrepreneurs. Passive income, for the most part, involves the sale of digital products. When you purchase a book off of Amazon, for instance, that book is creating passive income for that particular author. The author did not stand in front of you and directly sell you the book. Money did not directly change hands, but rather you paid for a digital product. You did so with a digital form of payment. Thus, it cuts out the middle man and allows entrepreneurs more freedom. They can work on a beach, in a café or at home. But, even while they're sleeping, they are still earning money.
So what products can you create? Let's take a look at the most popular.
A blog.
Being a blogger is a tough job, but monitoring your blog may make it worth it. As annoying as ads may be, these ads help the blogger earn money. Each ad you click on gives them a few cents on their ad revenue. Bloggers also use affiliates. They sign up with companies that sell products similar to their blog content. Authors often become affiliates of Amazon and bookstores. Entrepreneurs may become affiliates with various companies dependent on their product line. While affiliates won't make you rich, they are a good step to help to make it worth it. You can also sell products and services on your blog. Have a "Hire Me" or "Products" page where people can order directly from you. Blog about these products and/or services in order to lead your reader to them. This is going to help you generate more sales and get your customer excited for when your next product comes out.
Write a book.
Are you an expert? Maybe you have a fascinating story to tell. You may write to inform or teach others a process. Writing e-books is a worthy purpose. While it's a bit expensive to self-publish, having a budget makes it worthwhile. Website owners may blog about their book as they are writing it. This helps to gain attention as you, the author, are writing the content. If your blog is popular, ask your readers what they want to read. In essence, you are helping to solve their problem. Let's say you're writing a book on Pinterest marketing. Your audience may have read all the books on this topic. Yet, none of the books really clicked with them. You have the opportunity to write the book for which they have been waiting. Don't forget to pre-sell your book in your e-mail newsletter. This is a good way to boost sales and run promotions prior to your book's release date.
Sell a course.
People want information fast and at a bargain price. We live in an era of technology. Your course has to available on a wide range of devices: cell phones, tablets and computers. Your online course is going to serve a purpose for your audience. Let's say your course is on money management. A student may have graduated college twenty years ago and needs a refresher course. Or, they could use your course to start their own business. Don't forget to vary your teaching style and teaching materials. The most popular courses include video and audio. There are word documents, powerpoint presentations and images. On teaching platforms, you can even create interactive quizzes and polls. Discussion forms and student e-mails, too, help you directly connect with those taking your course. At the same, however, you're not having to drive to a classroom nor interact face-to-face with students. All of your work is done remotely.
Develop an app for Android or Apple.
Those who are experts in programming will clamp onto this idea. Developing an app could be fun and purposeful. Nonetheless, this is a passive income project that takes a great deal of research. You have to plan out each portion of your application. This includes animations, graphics, content and organizational methods. It's necessary to know where a user will go if they click on a button. Application development shouldn't leave anything to chance. Most of it can be completed directly on your computer. You can earn quite a bit of money if you design a resourceful application. Even selling it for 99 cents will generate income. Additionally, monetize your application by putting advertisements at the bottom. Give your user the option to opt-out of the ads, as well, as long as they pay for an in-app purchase. For instance, they may pay a one-time fee of $4.99 to remove all the advertisements.
Start a Youtube channel.
Tutorials are popular via this video search engine. Make videos on anything within your industry. Chances are that you will find a unique audience. You can advertise these videos on all your other social media pages as well as your blog. Monetize these videos and you'll be earning money each time someone clicks on your video. This is because advertisements play prior to a video's start. If it's a long video, Youtube may insert additional advertisements into it. Don't forget to read your video comments and interact with your fans. They will tell you what they want to see next. Take note of this. These individuals find you to be inspirational and worthy of their time. If you don't value their opinion, they will soon click in your opponent's direction.
These are only some of the ways you can earn passive income. There are many more! Be creative in your business and you're certain to be successful.