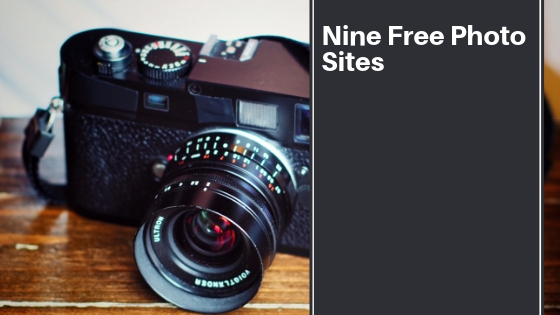 "Learn the rules like a pro so you can break them like an artist."


– Pablo Picasso
Bloggers and website owners need photos. It's a way to hook our readers on social media. In this case, photos each photo is worth a thousand words. It should speak directly about your content. How you use your photo is just as important. There are many wonderful photography sites out on the internet, but through this post, I'm just going to list the free sites. (Because most bloggers have uhm…*ahem* a budget).
Note: All these websites follow the Creative Commons License. Some may have variations with attribution.
Public Domain Archive.  If you haven't checked out this site yet, then why not? These public domain images are free to the public. They are copyright free and may be used for commercial and personal use. Take a look through all their stunning artwork. They have modern images and images that appear more vintage. Thousands of photographs appear on this website, which is going to keep you busy for awhile. You're sure to come back again for more.
Stocksnap.  This website has incredibly wonderful photography. Its copyright-free photos are creative and artistic. This website tracks how often photos are searched, making those photos rise to the top of search results. Take a stroll through the trending photos to see if any match your content well. This site does not require attribution to photographers.
Pixabay. This site is wonderfully creative and always surprises me. Pixabay adds new photos on a consistent basis. You can filter out images well, search by a specific artist or add photos to a favorites list for later usage. The searching capacity is well-designed on this photography site. I find that the site is very clean and user-friendly. It has a wide assortment of photos for just about anything you need.
Pexels. Pexels is similar to Pixabay, but the search is a bit different. Pixabay allows you to search all photos, whereas Pexels allows you to search photos by category or photographer. Likewise, the download button is designed a bit better. It gives you the option of choosing a download size before you download. Unlike Pixabay, Pexels allows you to customize the photo's size. This is really nifty, and this removes a step from the process. It places the photograph on your computer much faster.
Burst. Next we move onto Burst, another free online photography site. This website seems to have a specific database of photos. For each search result, it brought back less than 25 photos per result. If you search all the photos, however, you can expect to get a much richer variety of photographs. These photos, just like all the other sites on this list, are free to use for commercial and personal use. New photos are added to Burst each week. If you don't see what you're looking for right away, be sure to come back!
Freephotos.cc.  Wow! I have never visited this site before, but I will return in the future. This site has beautiful and stunning photography. All the images are sharp and crisp. These photographers are masterful and creative in their art. If you are searching for a particular photo, come to this website. You are sure to find something that you enjoy. You can either search for photos or constantly scroll, but either way you're going to amazed by all the photos you see.
Unsplash.  Upsplash is another beautiful and well-designed photography site. In order to use these free photos, however, there must be attribution to the photographer on your website. All they ask is that you include a link below their photo giving credit to their hard work. It's not that much to do for a free photo in return. The photographers on this website are artistically creative and masterful. It has photos that nobody else has via the internet. Consider using the photos for your website and say thank you for the free download.
Picography.  Here is another fabulous photography site. The only way to search this site is to search through its pages. These photos are public domain, however, and they do not require attribution. This site has unique photography that you're not going to find anywhere else. It's worth a look if you have the time.
Gratisography.com. Finally, don't overlook Gratisography. This website, from what I see, leans toward a vintage style of photography. There are some abstract photographs here and there. It's very specific in which photographs it its photography niche and I enjoy that. Take a look through their photographs if these are the types of photographs you need for your website.
I hope this has helped. Have a wonderful day!