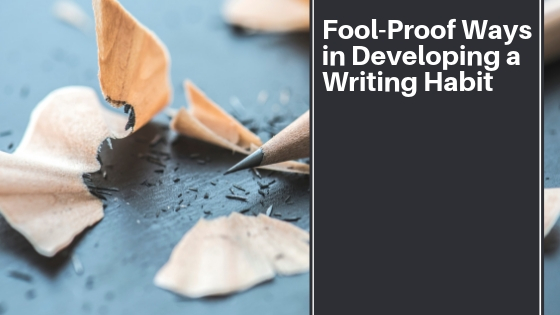 "If you want to change the world, pick up your pen and write."
– Martin Luther
If you're a writer, you know how important a writing habit can be. It's important to get writing in each and every day. This can include writing part of your book, writing in your journal or writing a new song. The point is–you're writing! You're getting your creativity out into the world so it can motivate and inspire others. That has to be a fantastic feeling. Without further ado, here are five ways to ensure your writing habit never takes a backseat to your busy life.
1. Have a routine. Get up at the same day every day, regardless if it's a weekend or holiday. Try to write in the same place. This consistency is going to allow for a better flow of ideas and creativity. Start by writing what's in your head at first. While a flashing cursor on the screen or a blank page can be intimidating, you have to have the persistence to fill it with the words of your soul. What has been on your mind lately? Try to generate it into a story or poem to release those feelings. It's not good to keep these feelings bottled up inside.
2. Watch Periscope. This video streaming service is becoming popular with all types of people, but I enjoy watching it in the morning. This is when I find more motivational people to be broadcasting. These individuals have a message behind their broadcast; they are self-driven to help others achieve their goals and live out their dreams. This social network can be a powerful tool, but when you're not watching entrepreneurs on it, turn off your notifications. It could be an easy distraction if you're not careful.

3. What tools do you need? Do you prefer a MacBook Air or a tablet? Do you write from your phone or from notebook paper? If you need a printer, scanner or fax machine–buy it. Make sure you have a desk with proper lighting. Then it's time to get down to business. Start writing the current project you have going. Finish this and get it published while moving onto the next project. If you work at home as a writer, this should be easy to do. But, as a work-at-home writer, I know it's not this easy to churn out books. Do the best you can and you'll be successful.
4. Read…READ…READ! Reading is so important. If you want to start writing a specific genre, it's a good idea to read lots of books within it. Knowledge is power. Use these authors as your mentors. They're laying out the road in front of you; they're showing you how that genre is written so you can do the same. Reading also increases our vocabulary and our knowledge of different eras. If you are struggling with your story or writing project, research books you can read. You'll be surprised that there isn't a short supply.

5. Join a writing group. Writers need writers. We need to find a supportive group of people that are not our family or friends. Family and friends are awesome, but they can't be objective. They're not going to be honest about your writing; in fact, they may be too honest–and nobody needs that. On the contrary, a writing group usually offers constructive criticism. They help you fix your writing project and help you polish it so that it looks its best. Don't be timid when joining the group; they usually are very friendly and offer members coffee!