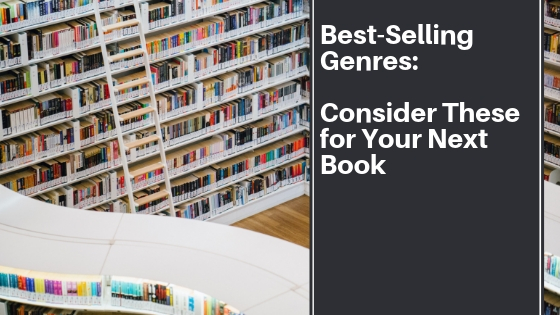 "There is no greater agony than bearing an untold story inside you."
-Maya Angelou
Do you enjoy reading sci-fi/fantasy or biographies? Are historical romances. thrillers, mysteries or cookbooks on your Kindle? How about young adult fiction, children's books, or Christian books? Really consider these and other genres. Typically when writers sit down to write a novel, they write what they read. So if you're a huge fan of crime thrillers, this is most likely the plot that you'll develop for your reader. It doesn't always happen that way, but most of the time.
Why is genre so important? First, this is how you're going to identify with your readers. You're going to want to really study the craft, but you don't have to buy dozens of books. Go to your local library and check out books in your genre. Study how the authors create their plots and scene structure. How do they develop characters and conflict? If you study the genre well, then you're going to be well-prepared to write it. You're going to know all the twists and turns that are necessary for your plot. You won't leave out any cliffhangers or suspense.
One of my favorite authors is Nicholas Sparks. The Notebook
is one of my favorite books, and of course, one of my favorite movies. When I read his books, his characters really drive me into the story. The description of his settings and characters really puts the readers in the moment. If you want more of an action story, you may consider action thrillers. Read authors in the genre of which you plan to write, for they will be your teachers. There are just some things all those reference books can't teach. You're in no way copying authors, but instead getting a grasp of how they do things.
So what are the leading genres? Let's have a peek into some of them. First, there is the mystery/thriller genre. Let's admit it, everyone likes to be scared a little now and then. These novels are action-driven. The inciting incident often occurs within the first couple of pages, setting the protagonist and antagonist in motion. There are often murders, heart-stopping page turners, and characters that work for the FBI or the covert affairs. Yet, these are what makes these books so fascinating. Readers want all this and this is why these authors are so successful.

Family saga fiction is another popular genre. Similar to other genres, this is one that often requires a great amount of research. Sure, it's fiction; yet, often these books are based off facts. For instance, a grandmother may have come through Ellis Island and the author is telling the story through the eyes of the character. Of course, the character is not her grandmother, but she holds similar qualities. It's very tricky because you don't want to make it too similar to the real-life person. Timelines may also be hard to keep straight, which is why you need excellent plot organization. Where was your character on Jan 9, 1945 and how does this affect his whereabouts three months later? If you confuse them, the reader will be lost.
Another popular genre is romance. Your (often female) protagonist must have external and internal goals they are trying to reach. For instance, they may meet a man on the beach yet are playing hard to get. The protagonist has to powerfully move through the story while the male suitor tries desperately to win her over. Unlike other genres, there may be more backstory in romance. The readers might benefit of why the character is playing hard to get. Perhaps she is young and not ready for a serious relationship. In the end, however, the character must always reach their goal. The reader expects this and they want it.
Finally, historical fiction books often top the best sellers list. It's not uncommon to see historical thrillers/mysteries and historical romances, but these books need extra care. It's not enough to say your character walked down a street in 1860. You have to put readers there. What does the street look like? Are there factories, buildings or nothing at all? Is it not even paved or is it gravel? Expect to spend a lot of time in libraries researching your setting. Those that have knowledge of your setting are going to expect you to get it right. For instance, a character in the 1700s might not be using electricity but rather a candle.
These are just a few genres off Amazon's best seller list. There are dozens more. You can cross genres with other genres; the possibilities are endless with your book. So that's it. Stop reading and get your pen (or fingers, if you're at the computer) moving!