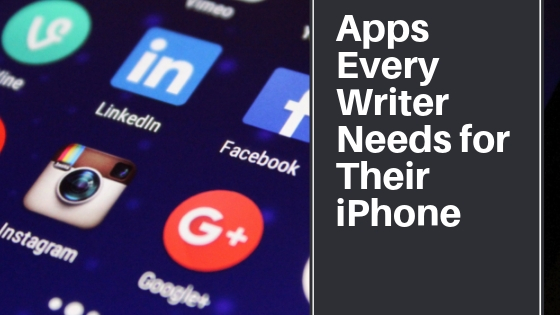 "You are never too old to set another goal or dream another dream."
– Les Brown
Technology can be a writer's best friend. Most writers are fortunate to have a phone, tablet and/or computer of which they write their books. Through this device, many also stockpile applications that they use on a regular basis. For me, this is my phone. I constantly use it for reading and researching, note-taking and writing.
Here's a sneak peek of what apps I find most useful in my writing career. All of these applications can be found in the Apple store.
1) Flipboard
This isn't your typical RSS reader, but it could be used for that. Users are able to follow their favorite blogs, magazines, and newspapers. What I like best about Flipboard is that users can create magazines on their own account. Then, just as you flip pages through a regular magazine, so you flip the pages up on Flipboard. If you find an article you want to save, click the plus to add it a magazine you created. This makes it easy for you to go back and read later. I only wish they had offline reading, but it doesn't eat up that much data.
2) Goodreads
What's not to love about Goodreads? I'm a strong believer is that you need to read a lot to write better. I have an overflowing "to read" list on Goodreads that exceeds my time, and yet I always add to it. Add books that are most interesting to you. For instance, if you love biographies but don't like historical fiction, then why put it on your list? If you're curious about a genre, look up a few books and add them to your "to read" list. This is going to motivate you to keep a steady reading habit. Once you finish a book, review it and rate it. This tells the author that they have readers on Goodreads and authors appreciate honest feedback.
3) Slack
Slack is a relatively new application. If you write for clients either offline or online, you'll find this application useful. Slack a private instant messenger meant to bring people together within a business. You can have one big chat with all of your colleagues, or each person can have a private conversation going on in another room with someone else. I've used this with clients that I write articles for online and those for which I proofread their books. It's a great application if the service you're using is not available on mobile or if you're working with the client through your website.
4) Mindnode
This is the digital version of a mind-map that all of us used to draw in middle school. In the Apple store, it's $9.99, but it's well-worth the money. When you open the application, it starts out with your main idea. Then, just like you drawing a mind map yourself, it does it for you. Let's say your main topic is cars. At the press of a button, the next three categories you branch out are Honda, Ford, and Kia. Each separate branch is in a different color which I love best about this application. It makes it easy to keep track of the information. Whether you're writing a blog post or a book, you need to get this application. It can sync from your phone to your computer which is so, so useful!
5) Writer: Write a book, write a story.
Finally, I'm new to using this application but I'm already hooked. When I buy or download an app, it's all depends if the app has organization and syncs to other devices. Writer succeeds at both of these qualities. It works much like the sticky notes that you would get for a notebook, sticking them alongside the pages. In this application, you can keep track of all information for a writing project using green, red, blue or yellow tabs. It's helpful if you're writing a book or even blog articles on-the-run. The files can then be downloaded to your computer or sent to Dropbox.
What apps do you find most useful as a writer? Leave them in the comments below.